Filter Press, HTHP, 500 mL, Double Capped Cell for Cement Screens, N2 Pressure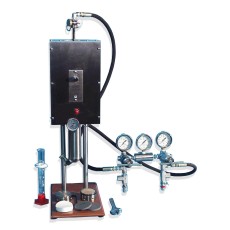 Call for Price: 832-320-7300
Introduction
The OFITE HTHP (High Temperature, High Pressure) Filter Press is designed for testing drilling fluids and cement under elevated temperatures and pressures. The unit simulates various downhole conditions and provides a reliable method for determining the effectiveness of the material being tested.
The complete assembly consists of the following:
A controlled Nitrogen pressure source (not included)
A pressure manifold with two regulators (primary and back pressure)
A high-pressure test cell
A heating jacket for heating the test cell
A suitable stand
The components of the OFITE HTHP filter presses are fully interchangeable with those marketed by other manufacturers. The 171-00 series HTHP Filter Press is equipped with a 500 mL sample cell and four 200-watt heaters for temperatures above 350°F (176°C), making it ideal for laboratory use. Also included is a regulator manifold system for connecting to bottled nitrogen for higher pressures (up to 2,000 PSI / 13,880 kPa). All HTHP units may be ordered with 115 Volt or 230 Volt power requirements. A wide variety of accessories and replacement parts are also available.
Specifications
Maximum Temperature: 500°F (260°C)
Maximum Pressure: 2,000 PSI (13,880 kPa)
Pressure Source: Nitrogen (at least 1,500 PSI / 10,343 kPa)
Test Cell Capacity: 500 mL
Voltage: #171-00-C: 115V; #171-01-C: 230V
Heater: 800 Watt
Dimensions
Size: 10" × 18" × 42" (25 × 46 × 107 cm)
Weight: 53 lb (42.1 kg)
Shipping Size: 29" × 12" × 16" (74 × 30.5 × 41 cm)
Shipping Weight: 65 lb (29.5 kg)
Components
#153-12: Graduated Cylinder
#154-20: Thermometer with Metal Dial, 8" Stem, Dual Scale: 50° - 500°F / 0° - 250°C
#170-13-3: O-ring for Test Cell
#170-17: O-ring for Valve Stem
#170-19: Filter Paper, 2.5" (6.35 cm) Diameter, Box of 100
#170-35: Adjustable Wrench, 6"
#171-00: Heating Jacket, 115 Volt
#171-01: Heating Jacket, 230 Volt
#171-10: Back Pressure Receiver
#171-19: Test Cell with Cement Screens, Locking Screws, Double Cap
#171-24: Dual Nitrogen Manifold, 1350 and 750 PSI Optional
#143-07: Regulator Repair Kit
#170-37: Nitrogen Cylinder
#171-03-SP: Spare Parts Kit
Part Number
#171-03: 115 Volt
#171-04: 230 Volt